Limb, Core, and Veneer Choices
Customize your longbow or recurve by selecting from our many options.  We have many pictures in our gallery to help you customize your bow.
  Core
Hard rock northern Maple NC
Birds Eye Maple NC
Osage NC
B-grade Curly Maple NC
AAAA grade Curly Maple $100.00
Bamboo heat tempered $120.00
Yew Pacific Northwest $120.00
**Limb cores can be mixed
Veneer
Most veneers can be included with no additional cost.  Some veneers are expensive and will be priced accordingly.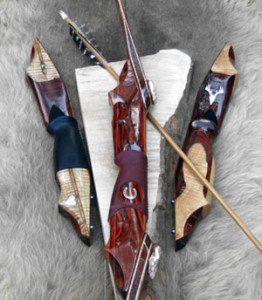 ** Included with base price
Bocote Curly Maple
Zebrawood Shedua
Osage Flamewood
Pau Ferra Goncalvo Alves
Bubinga
** Optional
Cocobolo $65.00
Macassar Ebony $90.00
Diamonwood $90.00
Riser Options
Bocote, no charge
Bolivian Rose Wood, no charge
Cocobolo $90.00
Macassar Ebony, when available, $150.00
Double accent stripes $60.00
Different wood combinations with
Crowned flare $190.00
Custom silver inlays starting at * $175.00
Custom grip (call to arrange) $75.00
Double shelf ** $190.00
Diamondback snake skins on back of bow $190.00
Extra Flemish Fast Flight string with silencers $25.00
Quiver Bushings $30.00
Compass $30.00
*Bill Slusser, a master gunsmith will be custom checkering the grips on longbows and recurves. Bill handcrafts custom flintlocks full time. His workmanship is known throughout the country. If you desire he will do custom inlays, such as scrolls, flowers, and even hunting scenes on riser sections using sterling silver or gold wire inlayed into the riser. This guy is the best I've seen!
**Double Shelf-a new double shelf longbow is now available, right or left hand with standard locator grip, two shelves on the same side of the riser, two nocking points on the string. Just slide the shaft up or down the string and switch hands, now when that critter comes in on the wrong side of the tree, if you "PRACTICE" you can take the shot.
If you would like more information on Stewart's Archery call us at 484-401-8239.